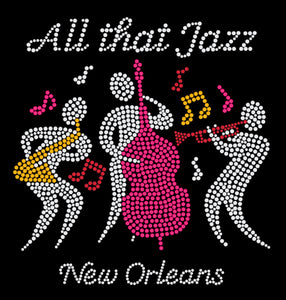 All That Jazz Rhinestone Trio
This silver rhinestone trio is jazzing it up with a saxophone, upright base and trumpet. New Orleans written underneath.
Please select shirt style, size, and color.
FABRIC 34 Single, 3.7 oz. 100% Combed Ring-Spun Cotton, Soft-Washed. Heathers are 60/40 Cotton/Polyester, excluding Athletic Heather. Athletic Heather is 85/15 Cotton/Viscose.
FEATURES Ultra Soft Hand, Side-Seamed, Tightly Knit, Superior Printability.
LABEL Tear-away.
Regular price $21.99 Sale
In Stock
Size Chat
Measurements
S
M
L
XL
2XL
Chest width
16.5
18
19.5
21
22.5
Body length
26
27
28
29
30
Size Chat
Chest width
15.5
16.5
17.5
18.5
Size Chat
Measurements
S
M
L
XL
2XL
Chest width
16.5
18
19.5
21
22.5
Body length
26
27
28
29
30
Size Chat
Chest width
15.5
16.5
17.5
18.5
Size Chat
Chest width
11.5
12.5
13.5
14.5
15.5
Body length
19
20
21
22
23